A One Day Event for Green Industry Pros

Friday, February 22, 2019

The Seattle GardenPRO 2.0 Conference is produced by the same talented and obsessed people who bring you the annual Northwest Flower & Garden Festival. The GardenPRO 2.0 Conference will be held on one day only, Friday, February 22nd, 2019 at the Washington State Convention Center, Seattle. The Conference will be held on Level Three, just one floor below the Northwest Flower & Garden Festival.
Spend the day with your professional peers and earn those valuable CEU's!
Thank you to all who attended GardenPRO 2.0!
LOCATION
Level Three at the Washington State Convention Center
705 Pike St., Seattle WA 98101
Registration will be in the 3AB Lobby, Level Three
WHO SHOULD ATTEND?

Make valuable personal connections with people from all areas of the green industry
| | |
| --- | --- |
| Horticulturalists | Professional landscape designers |
| Wholesale nurseries | Retail nursery owners and staff |
| Certified Landscape designers | Green industry suppliers |
| Landscape architects | Horticulture and design students |
| Garden maintenance companies | Certified Arborists |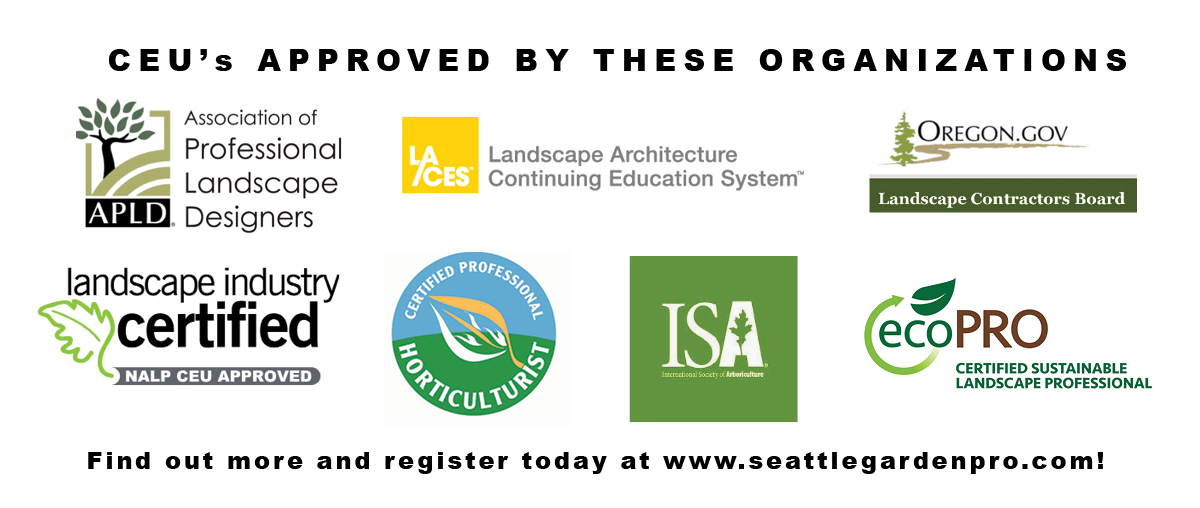 Pick up valuable CEU's to maintain your Certifications! The GardenPRO 2.0 Conference is approved for the following certifications and organizations:
American Society of Landscape Architects (ASLA) - Up to 9 CES credits
Association of Professional Landscape Designers (APLD) – Up to 10 credits
Certified Professional Horticulturist (CPH) – 5 credits
EcoPRO Certification – 3 credits
Oregon Landscape Contractors Board – 6 credits
NALP Landscape Industry Certification (LIC) – 9 credits
ISA - 3 credits

PROGRAM
With 2 Keynote speakers and 8 concurrent sessions to inspire you, the GardenPRO 2.0 Conference offers a wide range of topics targeting gardening professionals' interests and an opportunity to knock off those CEU requirements early in the year. Choose from 2 thought-challenging tracks in the Concurrent Sessions:
ACTION > STATUS QUO
Green industry professionals often choose their life's work to express their creativity, work in an outdoor environment, and to help people make their world a more beautiful place. But it's also a business—one that requires marketing smarts to best sell your talents to prospective clients. Gain valuable insights on standing out from your competitors, dealing with those all-too-frequent tough customers, stabilizing your seasonal workforce and adding services that can add new sources of revenue for your company. You'll gain tools to take action to make your business better than ever, so why settle for the status quo?
FUTURE > TODAY

Do you imagine a future where gardens across the country will finally embrace sustainable gardening, where lush new landscapes that provide biodiversity in a garden's ecosystem can successfully substitute for chemical use? Do you want to offer your clients new approaches to landscapes and gardening, one that is not only functional and esthetically pleasing but also environmentally responsible? Discover the latest plants coming your way through wholesale nurseries, and emerging trends in planting design that increases the biodiversity of plant design, including ways to incorporate critical planting schemes that support pollinators. Or dig deep into the science behind the best practices that support soil—and plant—health. You can help create a future that is better than today.
To read conference speaker biographies, visit the speaker page.
To see a detailed schedule including session descriptions, click here.

TIME

ROOM
TRACK, SPEAKER + SEMINAR

8:00 AM

3 AB Lobby
REGISTRATION

8:45 AM
3 AB

WELCOME + KEYNOTE


Chris Heiler — Take a Stand: How to Create an Identity for Your Landscape Business
10:00 AM


COFFEE SERVICE WITH SPONSORS
10:30 AM
3 AB

FUTURE > TODAY


Richard Hartlage — Green Trends in Landscape Architecture: Increasing the Diversity of Plants in Public and Private Projects

10:30 AM
303

ACTION > STATUS QUO


Melinda Myers — Create a Marketing Plan Based on Your Company Strengths

11:30 AM

CONVERSATION / TRANSITION

11:45 AM
310

FUTURE > TODAY

Nicholas Staddon — First Look: Hot New Plants in the Pipeline

11:45 AM
303

ACTION > STATUS QUO


Christina Salwitz — Selling NICELY to TOUGH Customers
12:45 PM
3 AB

LUNCHEON + KEYNOTE


Sharon Lacey — It's Wake Up Time

2:30 PM



CONVERSATION / TRANSITION



2:45 PM
3 AB

FUTURE > TODAY


Dr. David Montgomery & Anne Biklé — Growing a Revolution: Best Practices for Healthy Soil and Happy Clients

2:45 PM
303

ACTION > STATUS QUO


Dan Fazio — Landscape Labor: Navigating the Shifting Ground for Hiring Workers

3:45 PM



CONVERSATION / TRANSITION



4:00 PM
3 AB

FUTURE > TODAY


Eric Lee-Mäder — Fundamentals of Pollinator Garden Design

4:00 PM
303

ACTION > STATUS QUO


C.L. Fornari — Guidance to Go: Developing a Paid Consultation Service

Reserve Your Seat! Registration is Limited

Early Bird Tickets Available Through December 31, 2018
REGISTRATION INCLUDES:
Opening Keynote Speaker

8 Concurrent Sessions (4 60-minute sessions, each with 2 speakers to choose from)
Lunch and Keynote Speaker
Morning Coffee Break
5 Tickets to NWFGS – good for any show day ($120 value!)
20+ Gorgeous Show Gardens
350+ Marketplace Exhibitors
Over 100 FREE Seminars
Daily Live Events

Plant Market | Gourmet Market | Vintage Garden Market
10% off Food & Beverage at the show on Friday evening
And much more!
Secure your spot in the 2019 #GardenPROCon here
Registration FAQs
All attendees receive 2 Keynote speakers, 4 Concurrent Sessions (choose from 2 seminars each from 8 seminars total), a morning coffee break and a luncheon PLUS 5 tickets to the Northwest Flower & Garden Festival!
Early Bird Registration to 1/14/19 $200
Regular registration to 2/21/19 $225
No membership or student discounts available, sorry.
Registration Deadline
Registration ends February 21, 2019 at 11pm PST
When are my complimentary NWFGF tickets valid?
GardenPRO Conference registration is good only for Friday, February 22, 2019. All registered participants will receive by mail, in advance of the Conference, five (5) tickets to the Northwest Flower & Garden Festival, to be held February 20 – 24, 2019. Complimentary tickets are valid for any show day. NOTE: Registrations received after February 11th will receive their complimentary tickets on the day of the Conference.
NWFGF Show admission on day of Conference
All registered Conference participants will receive complimentary admission to the Northwest Flower & Garden Festival for Friday, February 22, 2019. The Conference hours are 8am – 5pm, and the show closes on Friday at 8pm.
Cancellation Policy
Cancellation requests must be received in writing via letter, fax or email before Friday, February 1st, 2019. No phone cancellations will be accepted. ALL cancellations will be subject to a 25% cancellation fee to be deducted from the refund. No refunds will be made on or after February 2, 2019. Please allow six weeks after the conference conclusion for the refund to be provided. No substitutions will be permitted. By registering for the 2019 GardenPRO 2.0 Conference you are agreeing to the full Registration and Cancellation policies.
ABOUT THE CONFERENCE
Every year gardening professionals in all areas of design, landscaping, horticulture and garden media converge in Seattle for a rite of Spring—the acclaimed Northwest Flower & Garden Festival. With 20 world-class show gardens, a Marketplace of 350 mini shops, and the most respected seminar program of any show of its kind, it's become the premier destination garden show in the country and a must-attend event for the gardening professional.
Now you can enjoy the Northwest Flower & Garden Festival and spend a day dedicated to your professional development, alongside fellow garden professionals, at a conference specially focused on your interests—the GardenPRO 2.0 Conference.
Whether you design gardens, install gardens, maintain gardens, or write about gardens, this event is geared to your professional enrichment. Don't miss this opportunity to network with your friends, make new contacts, earn valuable CEU's to maintain your certifications, and benefit from exclusive programming only available to Conference attendees. As icing on the cake, all Conference attendees receive 5 tickets to the Garden Festival to give to valued clients, key employees, or even keep for yourself.
For questions or sponsorship inquiries for the GardenPRO Conference, please contact Conference Manager Janet Endsley at janete@mpeshows.com.
Follow the GardenPRO Conference on Facebook & Twitter - #gardenprocon
Click Here to Register
THANK YOU TO OUR GARDENPRO CONFERENCE SPONSORS: