Laura LeBoutillier of Garden Answer will be appearing on Saturday, February 29th and Sunday March 1st from 10 am - 11 am on the Main Stage in the North Hall, speaking on "5 Things that Made Me a Better Gardener."
She will have Meet & Greet sessions afterwards at the Proven Winners booth #2602 in the North Hall - you'll be able to say hi and snap a photo with her, so don't miss it!
Laura's appearance is brought to you by Proven Winners.
More about Laura
Laura LeBoutillier grew up around her parent's garden center in Eastern Oregon. She worked there for 10 years and in 2014 started making gardening YouTube videos as a hobby along with her husband Aaron. After 2 short years of creating online videos she amassed over 1 million followers. Today she has over 2.5 million followers on Facebook and approaching half a million on YouTube. Her videos have received nearly half a billion views with her most popular video at 62 million views. This easily makes her the most watched gardener on the internet.
Garden-to-Glass: DIY Bitters Workshop with Raising the Bar Barware
Fri Feb 28 and Sat Feb 29, 5pm - 6pm
Learn about the history of the world's most popular cocktail ingredient – bitters then make your special blend. Explore the flavor spectrum for bitters from local plants. Base recipes will guide you through a buffet of botanicals of dried herbs, flowers, barks, and seeds to create your custom DIY bitters.
Workshop ticket includes: show admission (wow!), all dried botanicals and equipment to create your jar of bitters plus a packet of everything you need to know about making bitters. You'll take home from the show complete instructions, worksheet, and recipes to complete the infusion process. Space is limited so register early! Visit booth #2516 for more information.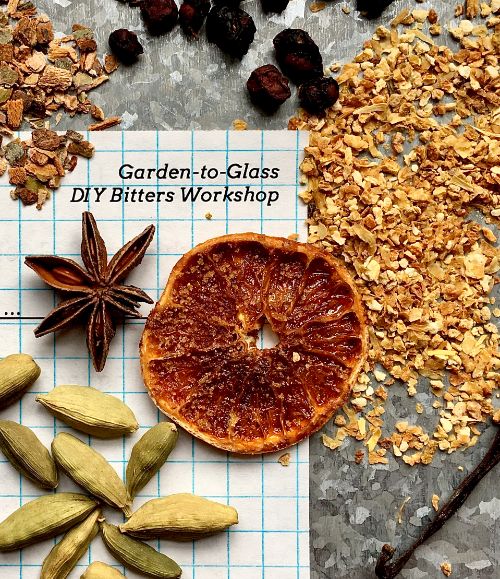 Vertical Succulent Garden Workshop with Kileen's Garden Boutique
Wed Feb 26 and Thurs Feb 27 from 5pm - 6pm
Sunday March 1 from 4pm - 5pm
Join us for this fun workshop where you will plant a living vertical wall garden with a variety of beautiful succulents and sedums. Experience the joy of vertical gardening, where you will create your very own stunning arrangement. We will use the gorgeous textures and colors of succulents in pre-fabricated frames made from re-purposed redwood. Choose from a star, heart or birdhouse shaped frame.
Workshop ticket includes: Show admission ($25 value-your ticket for admission will be at will call under your name) planting demonstration and succulent care instructions by Kileens Garden Boutique, your frame choice, preserved sphagnum moss, and seven 2"rooted succulents. Each guest will complete their vertical succulent garden to take home from the Festival. Kileens Garden Boutique is located in the Plant Market booth #2901. Visit our booth to see other shapes and sizes, or for questions on the workshop or succulent care. Space is limited so register early!