To ensure a minimal footprint, the Northwest Flower & Garden Festival, does not mail the Exhibitor Kit.
All of the COVID-19 Mandates, forms, links, and information you need are posted below.
Please carefully review this page as it will save you time, money, and hassles.

This page is always being updated as new information becomes available.
REQUIRED READING & FORMS
Please carefully look over the Exhibitor Manual. It can save you time, money, and hassles. The more informed you are, the smoother and successful things will go!
CLICK HERE TO READ EXHIBITOR MANUAL

The Northwest Flower & Garden Show will be following all the current state and county COVID-19 mandates for exhibiting and attending at a large event in Washington State. We ask that you read the following for mandates, procedures for mask wearing and vaccination status checks at the 2022 show.

EXPECTATIONS FOR 2022:


Exhibitors are REQUIRED to have floor covering in their booth (excluding the Plant Market and Garden Artisan carpet area). You can order carpet from the show decorator or bring your own flooring materials. It should be professional-looking, clean and must cover your entire booth floor corner to corner. No partial floor coverings are permitted.


All exhibit spaces will have 8 feet tall black drape walls. This means all booths will be separated with 8 feet tall black drape.


Additional booth lighting is strongly recommended. You can order electrical through the venue or bring battery-operated lighting.


Tables must be professionally skirted (no plastic) with floor-length skirting on all four sides. Any and all stored items, ranging from inventory to personal effects, must be stored completely out of sight.


Non-garden exhibitors will be asked to decorate their booth with extra plant or floral material.


Take a look at our Booth Inspiration page for ideas on how to display at the Festival.



WSCC Exhibitor Services
Exhibitors can order the following temporary utilities through the Washington State Convention Center:
Electricity
Internet (WiFi)
Water and water drainage
Phone service & more
Click here to order. DISCOUNT DEADLINE: January 18, 2022
WSCC SHOW SPECIAL - New "WSCC Pay" Package (5amp + 1 wifi)
Price $179 (separately = $206)
Our "WSCC Pay" Wi-Fi network is designed to provide secure and robust connection to service your mobile payment or point-of-sale device at your booth. This package provides your booth with access to one (1) login credential to a dedicated Wi-Fi network and one (1) 5 amp outlet at the back of your booth to charge your phone or payment device. Additional login credentials to the "WSCC Pay" network available separately. (WSCC is not responsible for configuring or troubleshooting your hardware or device issues.)
Order here.
If you have questions or need assistance, contact your Exhibitor Services Representative at 206-694-5015, or exhibitor.services@wscc.com.
Fern Expo Services
Please contact Fern Expo for information on ordering:
Forklift service from a private vehicle
Carpet
Tables and chairs
Signage & more
DISCOUNT DEADLINE: January 18, 2022
Email: exhibitorservices@fernexpo.com
HOW-TO ENHANCE YOUR COMPANY'S ONLINE EXHIBITOR LISTING
Your basic listing was uploaded to the website when you booked your booth. Within 24 hours you should have received an automated email to enhance your listing. This link can be used multiple times and you can make updates and changes to your listing until ONE day after the show commences. If you did not receive the link, please email MichelleD@mpeshows.com.
Need help with your listing?
Click to view the tutorial video - Enhanced Exhibitor Listing Tutorial - and FAQs

MOVE-IN
Your Move-In packet will be mailed to you in January. It contains your work passes, wristbands, and oversized vehicle parking pass (if applicable). Vehicle Passes will no longer be mailed. You will receive a Vehicle Pass when you arrive to the Loading Dock at your scheduled move-in time. Refer to the Move-in Map to see your scheduled time - this is the timeframe you can first start setting up and drive to the Loading Dock. You can continue to work in your booth after that timeframe and can use the Hand-Carried Freight elevators. If you are unsure of your booth number or move-in time, please email meganb@mpeshows.com.

IMPORTANT: It's your responsibility to get the work passes and wristbands to your on-site staff. DO NOT misplace your wristbands or work passes - security has increased at the venue and you will be denied entry! Replacement wristbands cost $10.00 per wristband and can be purchased at the Box Office in the Atrium Lobby.

Do not leave wristbands in your booth as you need them to gain access to the show floor. You can leave wristbands and tickets in Will Call for staff arriving at a later time.
Move-Out
Exhibitors can begin packing up their booth at 6:01pm on Sunday, February 13. Once your booth has been packed up, find a show representative for a Move-Out Pass.

Please note that no vehicles will be allowed on the floor until aisle carpeting has been removed. This could take up to an hour after show close.
DIRECTIONS & PARKING
Please click on the links below to view and download direction maps to the following:
View the current rates, hours, and height restrictions of the WSCC garages here.


OVERSIZED PARKING
If you need access to oversized parking, we have secured in Seattle located10 miles from the Convention Center. The cost is $100.00 per vehicle (trailer included) from Move-In on Sunday, February 6, to final Move-Out on Monday morning, February 14. To pay for oversized parking, please email michelled@mpeshows.com.
If you have already purchased oversized parking, your parking pass will be included in your move-in packet which will be mailed in January. Spaces are limited so please submit early!
SHOW INSURANCE
Proof of trade show insurance in mandatory for our shows. Coverage dates must include Move In and Move Out. Liability requirements are $1,000,000. We require a copy of your certificate emailed here to keep on file prior to show open.
It is required that we are listed on your policy as additional insured:

Marketplace Events LLC
2000 Auburn Dr Ste 200
Beachwood, OH 44122
Don't have an insurance provider? Buttine Insurance can offer coverage for show specific dates for $80. Click here for the order information.
SHOW HOTEL RATES
Show participants receive a negotiated hotel rate of $119 per night at the downtown Hilton Seattle Hotel; available online only. To reserve, click on this link. There is limited availability; once the block of rooms is booked this rate will no longer be available.
NEW THIS YEAR - For those show participants looking for a different option with a Full Kitchen, we have also negotiated a rate of $159 a night with the Residence Inn Marriott – located about 4 blocks from the Convention Center at 1815 Terry Avenue Seattle. 1-844-374-8789. To book, click on this link.


You can only receive these rates by booking through these links. However, if you have any specific questions, please call the hotels directly.

There are several downtown hotels that also offer discounts for anyone attending the Northwest Flower & Garden Festival. To see what hotels are participating and to make a reservation, go to gardenshow.com and click on the PLAN YOUR VISIT – HOTEL DEALS tabs. For most of the hotels you must make your reservation through the website. You may not receive the discounted rate by calling the hotel directly.

Please note that the hotels set aside a specified number of rooms at the discounted rate, and once they are all reserved the rate is no longer available.
SECURITY
There will be enhanced security onsite at the show. Wearing a Work Pass during move-in and move-out and wearing a wristband during show days are mandatory – there will be no exceptions. If you forget or lose your exhibitor wristbands during show days, you must purchase more at the box office for $10.00 per wristband.
If you have any questions, please contact our office at 206.231.0140.
WARNING - SCAMS CIRCLING
We have been made aware that companies claiming to be affiliated with Marketplace Events LLC, such as but not limited to: International Fairs Directory, Events Global, Exhibition Housing Services, Global Travel Partners - are reaching out to our exhibitors offering attendee lists, sponsorship items, or hotel rates in exchange for your company information and/or banking/credit card information.
These companies do not have any business relationship with Marketplace Events LLC, nor have we given them authorization to use our Show names or Show-related information. We strongly recommend that all exhibitors be extremely vigilant when it comes to giving your information to any company that you are not familiar with. If you have any questions about whether or not a company is warranted in reaching out to you regarding your participation in the Show(s), please don't hesitate to reach out to your Exhibit Sales Consultant.
Marketing Opportunities

Download this image to place on your website or social media posts and showcase that you'll be at the Festival!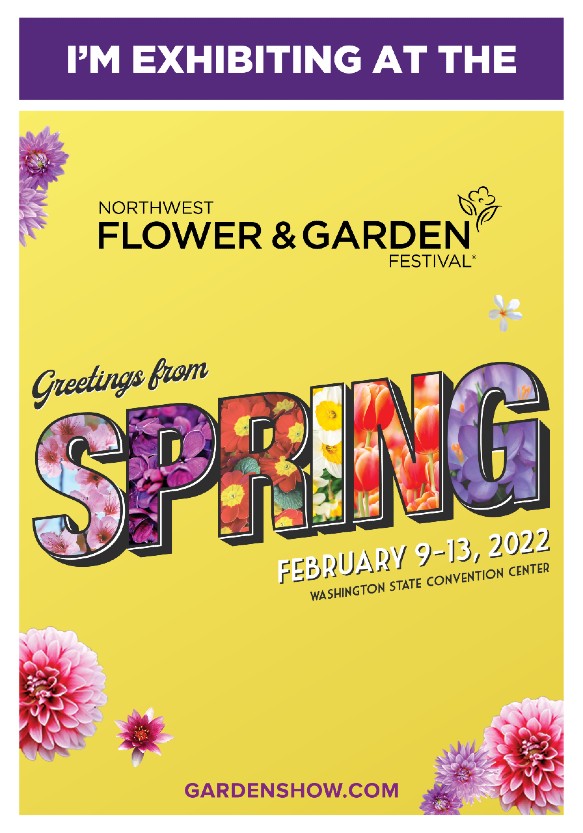 Sponsorship Opportunities and Booth Traffic Drivers
Get some extra bang for your buck at the Northwest Flower & Garden Festival! Work with us to get more people to your booth.


Social Media
Don't forget to tag the Festival in your social media posts!
Type @nwfgs on Facebook, Twitter, and Instagram to find us.