2019 Exhibitor Kit
The Northwest Flower & Garden Festival, in order to ensure a minimal footprint does not mail the Exhibitor Kit. All of the forms, links, and information you need should be posted below.
Please note that this page is always being updated as new information becomes available.
Questions?
Contact Linda Knudsen, Exhibit Sales Manager
ph: 206.620.2573 | mobile: 425.330.0300
lindakn@mpeshows.com
REQUIRED READING & FORMS
Please carefully look over the 2019 Exhibitor Kit and subsequent forms. It can save you time, money, and hassles. The more informed you are, the smoother and successful things will go!


How to set up your online
Exhibitor Listing
1. Head to gardenshow.com/add-exhibitor-login
2. Log in with the username: NFGFFebruary@mpe.com and password: NFGFFebEX9
Please note that the password is case sensitive.
3. Enter all of your company information that you'd like listed online and click submit. Contact your sales rep if you want to fax/email your information.
That's it!
Tips to get the most out of your listing
Enter a full description of your company. The more information you provide, the better, as it will help people find you using the search tool.
Use as many keywords as possible. The keywords will help you appear in the search results. If you sell different types of products, be sure to list them all.
Select the category that best represents your company. Your company will be listed under this heading.
Include your booth number. Make sure customers can find your company on the show floor.
Offer a show special or discount. Use a promo code or offer a percentage off to people who mention your listing - this way you can track the results.
DWA Trade Shows & Expositions Services
DWA Trade Shows & Expositions Services will have a Service Center located across from Show Office for all exhibiting needs such as tables, chairs, lights, shelving, furniture, and carpets.
Items not ordered in advance of the Show will be subject to additional charges. For the best prices, be sure to order everything you need online, by phone or fax by Friday, January 25, 2019. Order forms are located here - you may also order online here. The show code is: NWFLWR19
WSCC Priority Exhibitor Services
The Washington State Convention Center offers temporary utilities such as electrical, internet, WiFi, and more. All orders can be places through their website at wscc.com/exhibitorservices.
Show special - Point of Sale Internet Package: For a nominal fee of $205 plus tax, this package provides you with 5 amps of power and 2 WiFi connection codes intended for point of sale and checking email. Learn more here.
Please place your order by January 25, 2019 to receive the best pricing.
MOVE-IN PACKET
Your Move-In packet will arrive sometime in January. It contains your work passes, wristbands, load-in pass, maps, and oversized vehicle parking pass (if applicable).
IMPORTANT: It's your responsibility to get these work passes and wristbands to your on-site staff. DO NOT misplace your envelope of wristbands or work passes - you will be denied entry by security with NO exceptions! Replacement wristbands cost $10.00 per wristband.
DO NOT LEAVE wristbands in your booth as you need them to gain access to the show floor. You can leave wristbands and tickets in Will Call for staff arriving at a later time.
Logos & Links
If you're participating in the 2019 Northwest Flower & Garden Festival, please feel free to save the following promotional images for use on your website, social media, blog, and more.

Don't forget to tag the Festival in your social media posts!
Type @nwfgs on Facebook, Twitter, and Instagram to find us.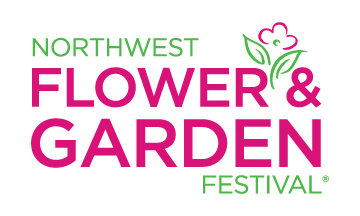 Media Kit

The Northwest Flower & Garden Festival wants to help you reach your advertising goals! Work with us for unique opportunities like:
Sponsored ticket giveaways
Email and social media features reaching our 100,000+ followers
Show guide ads distributed to 60,000+ attendees
and many more!
Click here to view our 2019 Media Kit to learn more about these opportunities.
Contact Courtney Goetz with any questions.

SHOW HOTEL RATES
While the exhibitor rate is sold out, we still have exclusive negotiated rates for the Festival. Please book through our hotels page here to save. Book early to secure your room!