The Northwest Flower & Garden Show has special Show Attractions for everyone. Among our most popular ones (Container Wars, the Show Gardens, the Marketplace, the Seminars, Vintage Garden Market, and more) we also have some lesser known attractions that you may be interested in checking out.

These attractions are great for kids to adults and newbies to experts.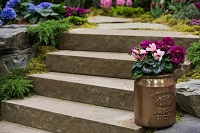 The Gardens
The Garden Creators will be weaving this year's theme "Garden Party" into their garden designs, and the results should be inspirational, educational and fun for showgoers. In addition to entries by landscape designers, the show is planning a major garden of its own to further spotlight the show's theme.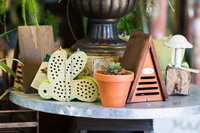 With over 300 high-quality exhibitors, it's a spectacular shopping opportunity for one-of-a-kind gift items, must-have plants, the hottest new garden tools, hand-crafted art and furniture, vintage garden wares, books, specialty seeds, artisan gourmet foods, and more. This one-stop shopping destination attracts quality exhibitors from around the U.S. and Canada.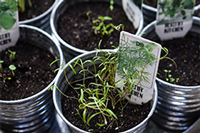 CONTAINER WARS
Container Wars returns with fast-paced fun and ideas for great container gardens. You'll get a first-hand look at dueling gardening experts creating beautiful and practical containers, while sharing helpful tips during their 60-minute demonstration. It's MC'd by syndicated gardening columnist and television host Marianne Binetti.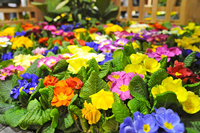 Blooms and Bubbles
Please check back for more info!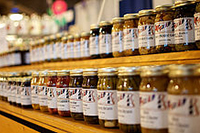 The Gourmet Marketplace
As you stroll through the festival's Marketplace, plan on savoring tasty regionally-produced food offerings in the "The Gourmet Marketplace," where over two dozen merchants serve up samples and sell their specialty foods and beverages.

Prepare your taste buds for new adventures! You'll see many returning vendors, plus new ones for 2018.

Vintage Garden Market
The popular "Vintage Garden Market" spotlights recycled and re-purposed treasures for the garden and outdoor living spaces. Explore a collection of booths from 19 local vendors selling unusual and one-of-a-kind home and garden items, vintage signage, repurposed furniture, garden art and more.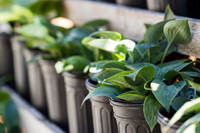 Staged on the Convention Center's Skybridge spanning Pike Street far below, 10 delightful patio gardens offer lots of practical ideas and inspiration, especially for apartment and condo dwellers, or anyone with a limited space for outdoor living.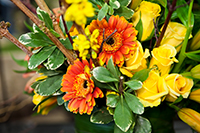 Always a favorite, this opulent display of artfully arranged blooms will delight anyone who partakes in the visual splendor. Located in the Atrium Lobby along the glass wall as you first enter the garden show, don't miss this competition showcasing the area's best and most innovative florists.
Kid's Treasure Hunt
Every year the garden creators "hide" an item in their garden. Kids can look for the hidden treasure, and record it on the Treasure Hunt form. Complete the form and you get a prize! This year's treasure is a 6″ colorful piñata. It may be hidden or disguised or both; however, the original size should remain the same. The Show Information booths will have an example of an unaltered pinata.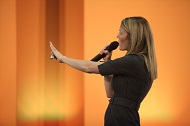 Seminars
When you dig into our FREE seminars and demonstrations you'll be inspired to turn your garden dreams into reality. Whether you're a novice gardener, or a well-seasoned veteran, our expert Speakers show you how to create gracious outdoor living spaces and luscious, sustainable gardens perfect for your family. View the seminar schedule.