The Northwest Flower & Garden Festival has special show attractions for everyone. Our most popular features are Container Wars, the Show Gardens, the Marketplace, the Seminars, and more.

There is something for everyone - from kids to adults and newbies to experts!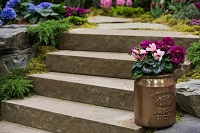 The Garden Creators will be weaving this year's theme "Gardens of the World" into their garden designs, and the inspirational and educational results will wow showgoers! In addition to entries by landscape designers, the show will have a Theme Garden to further spotlight "Gardens of the World."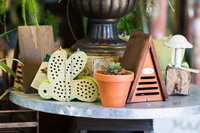 With over 300 high-quality exhibitors, it's a spectacular shopping opportunity for one-of-a-kind gift items, must-have plants, the hottest new garden tools, hand-crafted art and furniture, vintage garden wares, books, specialty seeds, artisan gourmet foods, and more. This one-stop shopping destination attracts quality exhibitors from around the U.S. and Canada.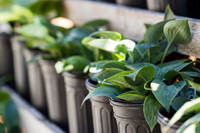 Staged on the Convention Center's Skybridge spanning Pike Street far below, 10 delightful patio gardens offer lots of practical ideas and inspiration, especially for apartment and condo dwellers, or anyone with a limited space for outdoor living.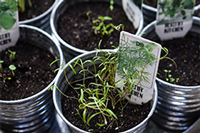 Container Wars returns with fast-paced fun and ideas for great container gardens. You'll get a first-hand look at dueling gardening experts creating beautiful and practical containers, while sharing helpful tips during their 60-minute demonstration. The action will be emcee'd by syndicated gardening columnist and television host Marianne Binetti with some fabulous audience giveaways!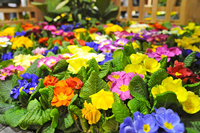 Join us for Blooms & Bubbles – an exciting floral design workshop at the Northwest Flower & Garden Festival! Every day at 3:00pm, sip on a glass of champagne while creating a fabulous make-and-take project led by a local floral design expert. Includes show admission, all necessary workshop materials, a glass of champagne to sip on, and more.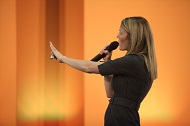 When you dig into our FREE seminars and demonstrations, you'll be inspired to turn your garden dreams into reality. Whether you're a novice gardener, or a well-seasoned veteran, our expert Speakers show you how to create gracious outdoor living spaces and luscious, sustainable gardens perfect for your family. View the seminar schedule.
Every year the Gardens Creators "hide" an item somewhere in their display garden. Look for the hidden treasure and record where you find it - find them all to get a blooming prize to take home! This year's Treasure Hunt is sponsored by West Seattle Nursery.