Container gardening has never been so informative, entertaining and competitive! "Container Wars" is back, featuring demonstrations by gardening luminaries–accompanied by a little friendly verbal jousting. All the fun takes place each day in the North Hall Designer's Arena from 11:30am to 12:30pm.

You'll get a first-hand look at dueling gardening experts creating beautiful and practical containers, while sharing helpful tips during their 60-minute demonstration, emceed by syndicated gardening columnist and television host Marianne Binetti.

Come early to take advantage of café seating… enjoy a meal or snack and sip a glass of wine or craft beer while learning from the pros!

For added inspiration, check out free seminar presentations by the competitors following each "Container Wars" episode.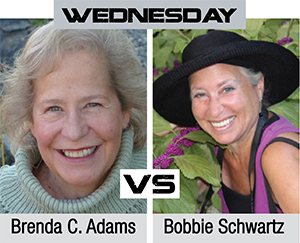 Brenda C. Adams
Brenda is the author of the acclaimed books, Cool Plants for Cold Climates: A Garden Designer's Perspective and There's a Moose in My Garden: Designing Gardens in Alaska and the Far North. Brenda is the award-winning designer of Gardens by Design, Alaska's premier garden design firm.

*After "Container Wars," Brenda shares "Truly Compelling Combinations: Creating Sizzle and Subtlety," Wednesday at 3:00 pm, Hood Room.

Bobbie Schwartz, FAPLD
Bobbie, owner of Bobbie's Green Thumb in Ohio, is an award-winning landscape consultant and designer. She lectures nationally and is a regular contributor to publications on perennials and landscape design. Her latest book is Garden Renovation: Transform Your Yard into the Garden of Your Dreams.

*After "Container Wars," Bobbie presents "A Happy Marriage: Design Integration of House and Landscape," Wednesday at 1:45 pm, Hood Room.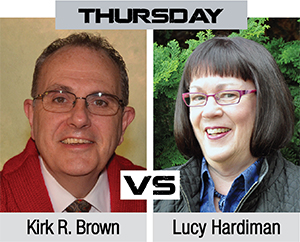 Kirk R. Brown
A recipient of the Pennsylvania Nursery and Landscape Association "Green Achiever" Award for advancing the cause of horticulture, Kirk serves as President for Garden Writers Association, consultant and national lecturer on horticultural topics. Gardens that he has designed and installed have been presented with "Outstanding Design Awards."

*After "Container Wars," see Kirk in a "Special Presentation: A Visit from Frederick Law Olmsted," Thursday at 4:30 pm, Rainier Room.

Lucy Hardiman
Lucy is the principal of Perennial Partners, known for innovative hardscapes, playful and sustainable planting design and creative problem solving. A sought-after lecturer, she is a past president of the Hardy Plant Society of Oregon and has been a contributing editor for Horticulture Magazine.

*After "Container Wars," Lucy shares ideas in "Gardening in Small Spaces – Turning Small Space Challenges into Opportunities," Thursday at 2:15 pm, Rainier Room.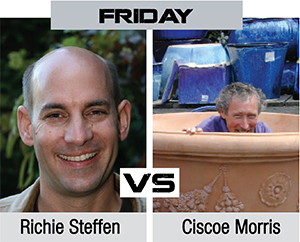 Richie Steffen
Richie is currently the Director/Curator for the Elisabeth C. Miller Botanical Garden in Seattle, where he oversees the garden and its rare plant collections, and heads acquisition of unique new plants. He also supervises the primary educational program of the Miller Garden: "Great Plant Picks" – committed to building a comprehensive palette of outstanding and reliable plants for maritime Pacific Northwest gardens.

*After "Container Wars," Richie presents "Great Plant Picks: Must-have Plants for Beautiful Containers," Friday at 1:45 pm, Hood Room.

Ciscoe Morris
Ciscoe has been a longtime WSU Master Gardener, an ISA Certified Arborist and a WSNLA Horticulturist. He is KIRO Radio host of "Gardening with Ciscoe," Seattle Times weekly garden columnist and author of Ask Ciscoe— Oh La La! Your Gardening Questions Answered, a national bestseller. His home garden has been featured in local and national publications, and he regularly leads garden tours to countries all over the world.

*After "Container Wars," Ciscoe shares "Life's Lessons: What 30 Years of Gardening Have Taught Me," Friday at 4:30 pm, Rainier Room.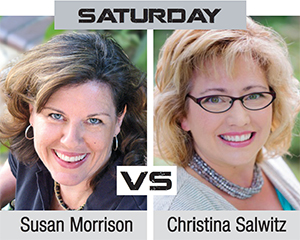 Susan Morrison
Susan is a California landscape designer and is a nationally recognized authority on small-sized outdoor spaces. She is author of The Less is More Garden: Big Ideas for Your Small Yard and co-author of the best-selling Garden Up! Smart Vertical Gardening for Small and Large Spaces. Her designs have been featured in various publications and the PBS series "Growing a Greener World TV."

*After "Container Wars," Susan presents "The Less is More Garden: Big Ideas for Your Small Yard," Saturday at 3:00 pm, Hood Room.

Christina Salwitz
Award-winning co-author, Fine Foliage and Gardening with Foliage First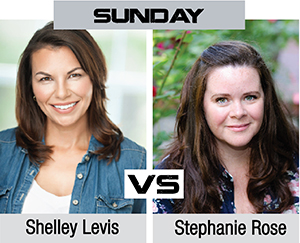 Shelley Levis
Shelley lives and gardens in Langley, BC. She is a speaker, author of Countertop Gardening–Easily Grow Kitchen Edibles Indoors for Year-Round Enjoyment, blogs at sowanddipity.com, and is a garden contributor to newspapers and magazines. As a TV spokesperson, radio show host, and editor of the newly launched Urbanique Magazine, Shelley shares her passion for all things green and encourages people to "think outside the pot" with her fun inspiring DIY ideas.

*After "Container Wars," Shelley shares ideas in "It's Easy to Grow Edibles on Your Countertop," Sunday at 1:45 pm, Hood Room.

Stephanie Rose
Stephanie hails from Vancouver, BC and is the author of Garden Made: A Year of Seasonal Projects to Beautify Your Garden and Your Life. Stephanie's creative take on garden making is shared regularly in her popular blog, GardenTherapy.ca and featured in Better Homes and Gardens, Woman's Day, Country Woman, Romantic Homes, HGTV Gardens and This Old House, among many others. *After "Container Wars," Stephanie presents "Plants Anyone Can Grow! Creative Crafting with Air Plants and Wire, Sunday at 1:30 pm, DIY Stage.